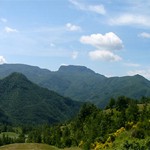 The Casentino Valley is located north of Arezzo, is spread over an area of ​​approximately 800 km², and is one of the four valleys of this country.
As an approximately elliptical morphology, the Casentino shows as an environment that stretches from the great forests of the mountainous areas to the plains and hilly areas of this valley. The Casentino is crossed by the first stretch of the River Arno, which was born in Mount Falterona.
The climate, in the mountainous areas in the valley, is typical from Apennines Mountains, so very similar to the continental climate, and is characterized by strong diurnal and annual temperature fluctuations, while gaining more temperate characteristics descending in the direction of Arezzo.
The particular character of this territory led Francesco di Assisi to choose the Verna mountain as own place of prayer and worship. In all likelihood Saint Romuald founded the Hermitage of Camaldoli, for the same reason. The Union of Montana Casentino consists of 12 municipalities: Bibbiena, Poppi, Pratovecchio Stia, Chiusi della Verna, Montemignaio, Castel Focognano, Castel San Niccolò, Ortignano Raggiolo, Chitignano, Talla, Subbiano and Capolona.
The most important centers of the Casentino Valley are those of Bibbiena, the main craft and industrial center, and Poppi, real artistic and historical Casentino jewel, counted among the "most beautiful villages in Italy".During its history, as a border area, the Casentino valley has lodged the Lombard populations, Gothic and Byzantine, whose presence is witnessed by strongholds made since the High Middle Ages. The towers, the walls of the castles, villages and bastions are over 60; they were built both on the reliefs, and in the streets and in narrow places, for a better control of the territory.
The roads of Casentino were under the control of the dynasty of the Counts Guidi, while the forts between Bibbiena and Subbiano were subordinate to the family of the Bishops-Counts of Arezzo. Tourist activity of the Casentino is mainly due to its natural and unspoiled landscapes, as well as to their geographical isolation. The entire area is enclosed by mountain areas, with some reliefs that sometimes exceed 1,600 meters, and forested areas protected by Casentino National Park.
The Casentino is a historical essay uncontaminated of central italy: a collection of small towns that in many cases have experienced comparable events to those of larger cities; ruins of castles, of which today only the suburbs, and they keep the name, finally beech forests, pastures, and small businesses still devoted to the collection of chestnuts and sheep. The large amount of historical documents on the Casentino show every their aspect, from the twelfth century to the present day.