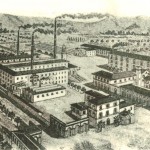 Casentino Lane s.r.l. was founded back in 1979 as a textile company in Partina. The Casentino, the historical land of weavers since the Middle Ages, already in 1300 sees the birth of the first production of fabrics for the Verna Franciscan friars, for Camaldolese monks and the Florentines: the Casentino valley is a world famous place for the typical production of the Panno Casentino.
For over 35 years the activities of Casentino Lane s.r.l. are to continue the evolution of this historic fabric, tough, waterproof, that always stands out for its exceptional features, and now used even by the world's top fashion designers to create their collections.
The Casentino cloth is a wool fabric obtained through a special process in a cloth, followed by a complex finishing procedure that allows to compact the fibers. This process allows to obtain a product of great strength and waterproofness.
The Casentino cloth is a world-renowned fabric, and although originally produced in dark colors, has achieved its worldwide success with the introduction of pastel colors, sometimes very heated, that characterize this typical cloth
Uses of the Casentino cloth they are manifold and varied: coat cuts, both classic and modern, in every color, and even coats, jackets, suits, shawls, ponchos, bags, hats and slippers, as well protect from damp and cold. The Casentino cloth is now also used by interior designers, architects and furniture manufacturers as a coating material for furniture.
Casentino Lane s.r.l. offers a guaranteed and certified product, today: the Casentino cloth encloses more than seven centuries of history, of ancient tradition and hard work.