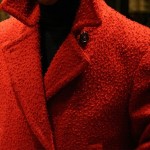 The Casentino is a well known around the world Valley, for the manufacture of so-called "big cloth" or Panno Casentino – Casentino Cloth – , obtained by processing of the wool from the shearing of sheep in this area. The traditional production has origins in the thirteenth century, made with ancient methods. The cloth was appreciated from his outset: the large resistance to weathering and wear this fabric made it essential for traveling and for those who spent part of his life outdoors.
The Casentino Cloth, or Panno Casentino, is a double layer fabric, very functional, waterproof and coldproof, obtained through finishing complex procedures, which give the fabric the typical "curl". The characteristics of the Panno Casentino provide a high level of thermal insulation and excellent transpiration of the human body.
The Casentino wool production has born from the Etruscan times. From the thirteenth century, in the Palagio of Stia, the workers produced fabrics and cloth Casentino for Camaldoli fathers and the friars of La Verna. In later times the Florentines knew the peculiarities of this fabric, so it widened the spread, both as clothes for chariots, both as fabric for coats, overcoats, and what else can fight the cold weather.
Famous people like Giuseppe Verdi and Giacomo Puccini wore the cloth Casentino, and also Barone Ricasoli, whose main clothing were very elegant double breasted coats, with haute-couture cut.
The Panno Casentino then comes to the present day: best designers and stylists in the world spread everywhere this fabric, with his traditional pastel shades, so aesthetically pleasing as it is useful and valuable.